Our learners have been kind enough to offer their feedback on each module to help anyone who might be interested, to better understand what is involved.
NOTE – ALL reviews have been published. NONE have been selectively edited or left out.
It shows the high standard, excellent feedback and true value of becoming a CakeFlix Master.
We are very proud to be the WORLD'S FIRST educationally accredited online Cake Decorating and Baking training programme.
Module 1 – Baking and Fillings
Lessons
Baking a Madeira cake
Making and applying buttercream
Baking a chocolate cake
Making chocolate ganache
How to ganache a cake
Baking a fruit cake
5* – "Definitely go for it, it's full of informative recipes and hands on learning that will take your cakes to the next level." – Jacqui Davies
5* – "The module is presented at an appropriate level – it can be accessed by a novice or an experienced decorator. Marking was done quickly." – Rachael Smith
5* – "I personally could not fault this course. It was informative, presented and filmed superbly. I can think of nothing to improve it." – Kevin Marshall
5* – "I would say do it, don't be scared, have fun and go in with an open mind. Paul is so nice and calm, he projects you can do it vibes through the computer screen." – Margaret Lupo
5* – "Anyone wanting to improve their baking skills should take this module, I have learnt so much and I thought I was a pretty good baker before!" – Julie Walker
5* – "I thought the course was great. I learned some new things from it especially about the ingredients. Flavour variations would have been nice for the Madeira cake but that is something for me to build on." – Ann Hately
5* – "I found it very good and thorough as a module and easy to follow. The standard is high. Because of that the student becomes better at what they do." – Katrina Murphy
5* – "Do it! It's very informative to the novice and experienced baker. Even I learned quite a bit and I've been baking for years.  Loved the audio feedback as it makes it more personal." – Nichola Meaney
5* – "For this first module I can honestly say for myself I cannot find anything for you to improve." – Vicky Bressington
4* – "Excellent foundation and great tips on baking. I personally had never used a collar before but now use it all the time. The ganaching section was excellent and used a different technique from what I have done before." – Rashmi Selli
5* – "This module can not be improved!! It was amazing!!!" – Jeannette Da Silva
5* – "The module was perfect – I had problems with the self-raising flour which is not available in Germany, but you adjusted the module right away." – Evi Carroll
5* – "A friend asked me why would I need to take this course, didn't I already know enough. No, there are bits and pieces along the way that we just didn't get." Mellonie Patcheak
5* – "My only advice to someone taking this module is to make sure you give yourself plenty of time." – Tiffany Perry
5* – "This module was easy to follow. If anyone is looking for a good start to making cakes then it covers all that you'll need." – Mary Williamson
5* – "The videos and notes cover everything. There is a lot to learn, but just keep trying." – Sharon Coe
5* – "Paul makes it so easy to follow instructions, if I can do it and pass, then anyone can. I was dead slow , now I'm just slow?." – Catherine Shaw
5* – "Definitely go for it! Amazing experience and everything is explained really well." – Irena Naujokaite
5* – "Even if you bake a lot as I do, I have learnt so many techniques that will help tremendously in the future." – Beverley Largier
Module 2 – Sugarpaste/Fondant Techniques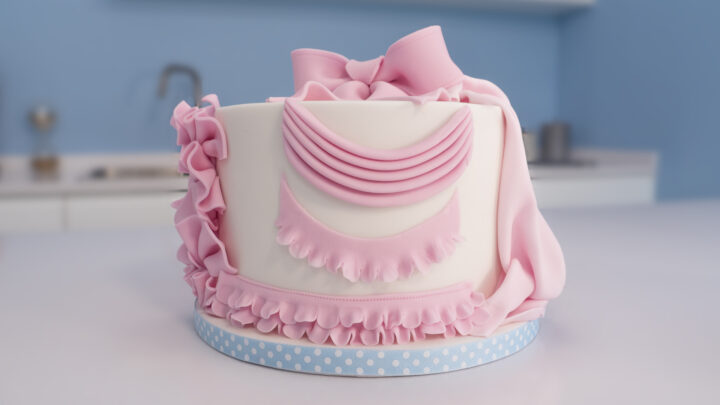 Lessons
Learning the different varieties of sugarpaste/fondant
Colouring sugarpaste/fondant
Covering a cake with sugarpaste/fondant
Simple sugarpaste/fondant flowers. plunger cutter and hand moulded roses
Sugarpste/fondant techniques
5* – "The sugarpaste module is an absolute winner for anyone that is a bit worried about using fondant. Paul explains everything in such detail that its completely understandable and makes you feel at ease with the task at hand. Well worth taking it!!" – Jeannette Da Silva
5* – "This was a very informative and wonderful module, lots of fondant skills I've not tried before due to being afraid of attempting but with Paul's knowledge and easy to follow instructions I passed and couldn't be more happier." – Jacqui Davies
5* – "Paul's teaching techniques are fab, informative, and easy to understand. I can personally say that no improvements for this module can make it any better than it already is." – Vicky Bressington
5* – "This is a great introduction into some of the prettier fondant techniques on a cake that look really effective and with a bit of practice would end up being easy techniques to know for improving your cake making repertoire." – Julie Walker
5* – "A fantastic module that takes you through everything you need to know when using Sugarpaste/fondant on a cake, some great hints and tips to help you achieve a flawless finish to your cakes!" – Rachael Smith
5* – "I can`t fault this module. Well presented and great video work." – Kevin Marshall
5* – "I would thoroughly recommend the module, Paul is great and is really easy to learn from." – Ann Hately
5* – "Excellent module, but suggest you use a dummy cake!" – Grace Bull
4* – "Highly recommend this module as there are hints and tips that really help to ensure that you colour sugar paste in a more professional manner." – Karen Ash
5* – "Do it and don't worry if you haven't got all the exact things suggested for use and you can compromise using another tool as long as the same techniques required is done." – Nichola Meaney
5* – "Be prepared to practise! It took me a quite a few goes to get the ruffles etc. right. Even though I used a 50/50 mix my paste was quite soft, I think the heat in my kitchen was to blame – could've done with air con!" – Carol Cockburn
5* – "Take your time and enjoy – it is not easy – but the results are impressive." – Evi Carroll
5* – "I learned a great deal in this Module! Fondant is not something I work with much and fear sometimes. The learning in this Module really helped me build my confidence, especially in covering cakes." – Mellonie Patcheak
5* – "Make sure you allow for needing to redo any modules e.g don't eat/dispose of modules until marked, to save needing to redo the whole thing, you may just be able to make changes." – Tiffany Perry
5* – "The course is amazing from sharpening up already known skills to the tougher modules in the course that you may have little or no skills with. The tutorials are well laid out." – Mary Williamson
5* – "Go for it, it's surprising the things we think we know but when you go to do them it's not so easy as you think, learning new things through out this programme." – Catherine Shaw
5* – "I wouldn't change anything about this module, everything was excellent." – Irena Naujokaite
5* – "Just take all the time you need and don't get frustrated. I wouldn't change anything about this module it is great as it is." – Margaret Lupo
Module 3 – Cupcakes, Cookies and Cake Pops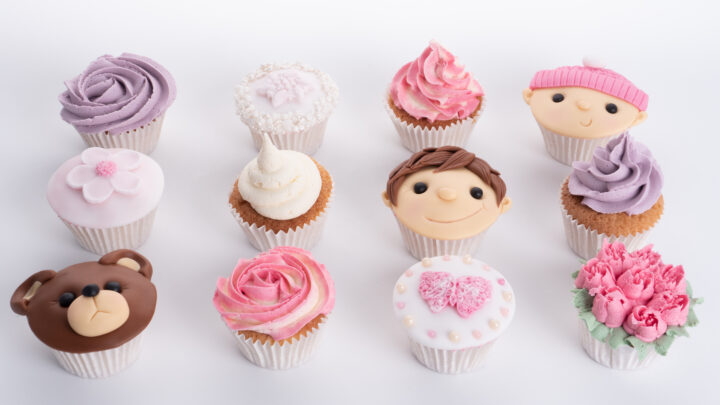 Lessons
Baking and decorating cupcakes
Baking and decorating cookies
Making and decorating cake pops
5* – "Great course to encourage the creation of cupcakes, cookies and cake pops. Paul delivers the course in relaxed, easy to follow steps . This was my first time making cookies and cake pops and they will definitely be on my future party tables. This is that type of course to give you that little push." – Kevin Marshall
5* – "Absolutely amazing module, definitely worth taking and learning new skills along the way. I've never made cake pops or used royal icing before and I thoroughly enjoyed the whole module." – Jacqui Davies
5* – "The cookie part of the module was particularly difficult for me, I have never done it before, so wasn't surprised when I failed the first submitted assignment, I was actually happy to fail a second time as I think by the third attempt I had started to get a hang of what I was doing, and I am sure with practise I will get better. Thanks for your feedback and support in getting through it." – Julie Walker
5* – "This module is great in helping you perfect those "up-sell" items that are brilliant for your business. If you're not a business, then it's great to help you impress the family!" – Rachael Smith
5* – "I enjoyed doing them all royal icing isn't something I do everyday and like everything else practice makes perfect But the cake pops and cupcake units were great." – Karen Ash
5* – "I learned a lot in this module especially with the cookies and royal icing. It is a great Module, a lot of fun and Pauls teaching is very clear." – Ann Hately
5* – "I am finding the whole experience excellent. Cookies are not something I would do often and I tend to make cake truffles as opposed to cake pops so it was great to learn how to do them properly." – Katrina Murphy
5* – "I thoroughly enjoyed the challenge of something out of my comfort zone. Thank you for having royal icing piping in the programme." – Nichola Meaney
5* – "The module was easy to understand and the quality of work by Paul is fantastic." – Vicky Bressington
4* – "Not as easy as you think !! I thought it would be a breeze as it's just everyday bakes, but you really learn how to get that professional finish and this assignment pushes your bakes to the next level giving them the wow factor. Really enjoyed it." – Rashmi Selli
5* – "The Cookie module was very challenging and it took a lot of practising. But never give up and you will get the perfect cookie results." – Evi Carroll
5* – "I learned a lot as I had not ever covered cupcakes in fondant and decorated them with fondant. The greatest majority of my clients always want buttercream, even on cakes. I needed the practice as well with cookies and royal icing. Cake pops are always dreaded, mostly the time involved and no one ever wants to pay what the time is worth. Usually I offer them in cute little cupcake liners, more as truffles if the are for adults. Way faster to make, look pretty, and adults seem to like the idea." – Mellonie Patcheak
5* – "Make sure you have everything ready first, It's quite a quick module." – Tiffany Perry
5* –  "I've not done cookies before and struggled with the royal icing , but I'm learning, going from very slow to slow, slow, slow. Never mind,  I'll soon be as fast as you Paul?." – Catherine Shaw
5* – "Definitely go for it! Everything was great." – Irena Naujokaite
5* – "It was a real challenge with all of these, as I had never done any of them before. Be strong and don't give up, you will get there soon enough." – Margaret Lupo
Module 4 – Sugar Flowers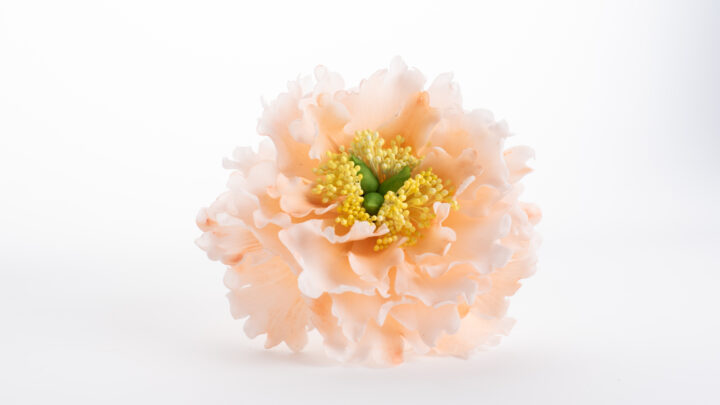 Lessons
Filler flowers
Making a rose
Stargazer lily
Peony
Rose leaves
5* – "You learn so much and get to create some beautiful sugar flowers giving you a wealth of knowledge to be able to create stunning flowers in the future. It's a valuable lesson and module to do." – Nichola Meaney
5* – "This module was one I have been putting off because I've always been a bit intimidated by flowers. I think because I'm not very delicate and can be a bit heavy handed. Paul takes you through from the basics through to a complex peony flower. I ended up loving this module, and have now got a new found love for flower making and was so pleased with the feedback I received." – Julie Walker
5* – "A great module showing you how to create some of the more popular bridal flowers that you can make into a spray for your cake or take one of the stunning flowers and turn it into a statement piece. Fantastic module!" – Rachel Smith
5* – "Do it it's very relaxing and rewarding, many hints and tips included throughout." – Karen Ash
5* – "Another well presented module. Can`t think of any changes needed. Excellent support." – Kevin Marshall
5* – "I love sugar flower and this gives all the basics to build on. Excellent module." – Anne Hately
5* – "Its fantastic and really makes you do the best that you can." – Katrina Murphy
5* – "I learned a great deal in this class. I have always been afraid of making large flowers, like the Peony.  I am so glad that I learned these key flowers as I tended to avoid the lily and the peony in the past. I'm not afraid anymore, nervous, well always, not afraid." – Mellonie Patcheak
5* – "I would say definitely go with it, you think you know how to do things until you actually do it like you are sitting an exam and you realise you have been doing it the wrong way or you learn something that you didn't know. I have to say I am loving doing this coarse, even although I'm stressed to the max?." – Catherine Shaw
5* – "Go for it! I wouldn't change a thing about this module, it was amazing." – Irena Naujokaite
Module 5 – Sugar Models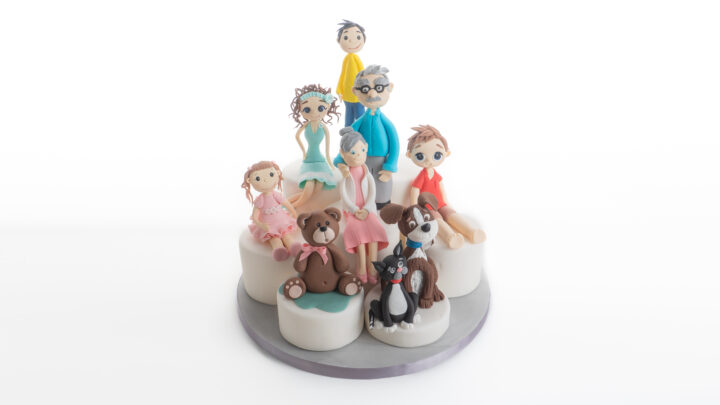 Lessons
Cat and dog
Teddy bear
Grandparents
Little girl
Little boy
Mum
Dad
5* – "This is a first class easy to follow module. Very detailed in its presentation and shows the student the various ways to depict a model figure from basic foundation shapes. An excellent launch pad for creating cake toppers. First class support and guidance from the tutor. I can not recommend this module highly enough to any student." – Kevin Marshall
5* – "I'd highly recommend this module it's been my favourite so far Different ways of making characters and very simple to follow." – Karen Ash
5* – "This is a lovely module in which you'll create a whole family, including the pets and a cuddly teddy bear! There are a variety of techniques and styles to learn and you will finish the module with a fantastic display of models!" – Rachael Smith
5* – "I really enjoyed this module. I learned so many tips and tricks end easy ways of doing things. Previously I always seem to complicate my models when there was no need! It was great to learn so many different facial expressions/eyes etc. So thank you for this module!!" – Katrina Murphy
5* – "Definitely do it as figures are often asked for on a cake so it a must know module." – Nichola Meaney
5* – "Whilst I thoroughly enjoyed making the models, my own personal experience was that it seemed to require an excessive number of models, to pass this section." – Paula Sullivan
5* – "Highly recommend this module if you are starting out with model making. Lots to learn and lots of variations." – Mary Williamson
5* – "In my personal opinion. nothing! I loved this course, it is explained in step by step detail." – Vicky Bressington
5* – "I can not think of anything to improve this module. I found this course excellent, I enjoyed every minute working on this module." – Sharon Coe
5* – "For anyone struggling with models and wanting to create simple, but effective models, this is absolutely the module for you. You can build on the techniques that Paul teaches you and take the models even further. It's a lot of fun!" – Julie Walker
5* – "Definitely recommend! I already had experience with sugar models before and its was fine but in the videos I find out sooo much tricks and how to do it much faster. Amazing!" – Irena Naujokaite
Module 6 – Royal Icing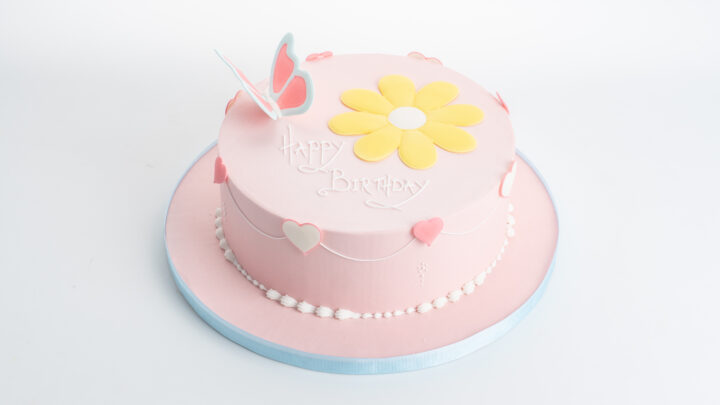 Lessons
Making royal icing
Marzipan covering
Royal icing covering
Piping
Run outs
5* – "After a nasty run in with royal icing covering almost 30 years ago, I have avoided using most royal icing techniques (except piping!). This module has sparked my interest in the medium again and I can't wait to get stuck in!! If I can pass this module, you certainly can!!" – Rachael Smith
5* – "First class easy to follow lessons to introduce the student to royal icing. With the knowledge of these basic techniques it opens the way to be a game changer for any aspiring cake decorator. It was a joy to learn a traditional method of icing; a tradition that needs to be kept alive. I will defiantly be looking to build on my learning of this beautiful art. I Highly recommend this module to all." – Kevin Marshall
5* –  "I have been putting marzipan on Christmas cakes for years and I never ever got a nice finish on it until I completed this module! I was even impressed with the Royal icing finish I got on the cake. The two major things I learned were fully expelling the air bubbles and taking my time. So thank you for that!" – Katrina Murphy
5* – "Do it! This module was way out of my comfort zone. I don't like royal icing by taste or to work with, but I had to step out of that bubble ignoring how I felt personally about it and get on with it to pass the course.  I was absolutely over the moon when I passed! Thank you!" – Nichola Meaney
5* – "Even though I have home baked for many years, this course will definitely improve your skill level and confidence as mine have grown throughout the course, Regardless of what age you are, you would thoroughly enjoy it too." – Vicky Bressington
5* – "For any complete novices (which I was) this module takes you from preparing the royal icing, to showing you how to achieve the right consistencies for icing, piping, and creating your own royal icing decorations. I was always very intimidated by royal icing (quite rightly :-)) but after Paul has shown you and walked you through it, it becomes so much easier to work with." – Julie Walker
Module 7 – Novelty Cakes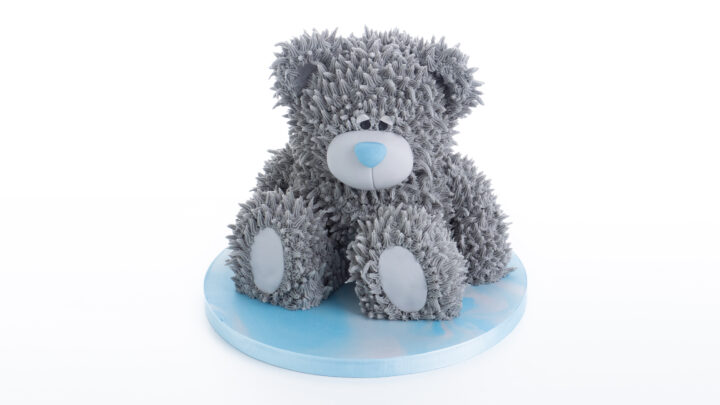 Lessons
Teddy bear
Dragon rock cake
Handbag
5* – "This is a great course for introduction to 3d design. A variety of simple to understand techniques which give huge impact to the project. Well presented and filmed. A joy to watch, follow and fun to make." – Kevin Marshall
5* – "Three brilliant novelty cakes, that look stunning and look difficult but with Paul's tuition and helpful tips they're easier to produce – and reproduce than you think and will impress everyone!!!" – Rachael Smith
5* – "Do it it's fab. I wouldn't change a think about this module." – Karen Ash
5* – "Each lesson is well explained and the supporting notes are helpful. It's a fun module to do learning so many different techniques 10/10." – Nichola Meaney
5* – "This is an outstanding learning programme which is improving my confidence and skill level. I would recommend highly as I have enjoyed every step of the way into improving my skill level." – Vicky Bressington
5* – "This module is so much fun to do and Paul shows you how to make some stunning cakes that are not too complicated but look amazing. Thank you so much for your amazing tuition." – Julie Walker
Module 8 – Wedding Cakes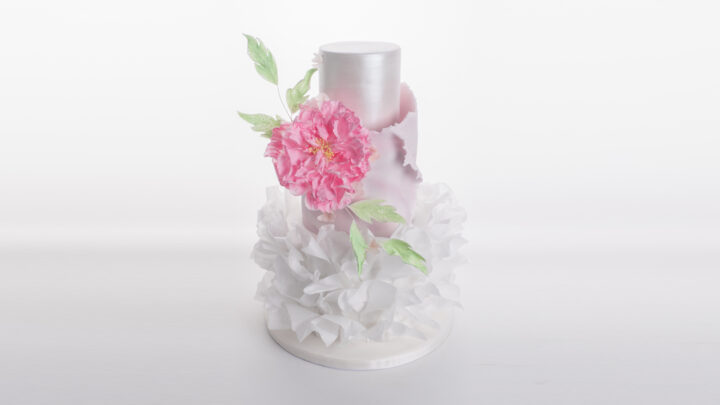 Lessons
Designing the cakes
Ganaching the tiers
Covering the cakes
Creating and adding decorations
Dowelling and stacking the tiers
5* – "This module covers a wedding cake from start to finish, giving tips that are useful for both a novice and an experienced cake artist. It pushes you to perhaps try techniques that you've never attempted before and the end result is stunning!!" – Rachael Smith
5* – "Another great module presented in easy to follow steps. A real pleasure to learn new skills. IT offers the student an appetite to explore new ideas and mediums. Highly recommended." – Kevin Marshall
5* – "Do it! Its full of different skills and techniques its so quick and easy to follow and you'll be so surprised what you can create so simply 10/10." – Nichola Meaney
5* – "I would definitely recommend the course, I have enjoyed every step of the way and cant wait to start the next level." – Vicky Bressington