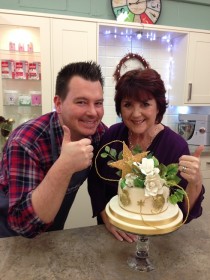 Now here's a tutorial with a difference…This week's tutorial, due to be published on 19th December 2014, is the Festive Thistle cake pictured here….
Living in Spain for most of 2014 we had some great times and met some great friends, but there was a special relationship with Debbie Sheridan who is one of the top English cake designers on the Costa del Sol.
Debbie moved to Spain almost 12 years ago and started making birthday cakes for friends as a hobby. Sound familiar? With exceptional feedback the passion grew and from the range of designs she recognised that she had a flair for making Sugar Flowers which then evolved into floral wedding cakes. Word soon spread and the hobby became a business. Sounding familiar? Having made wedding cakes for brides from the USA, India, Asia, Middle East, Scandinavia, Ireland, the UK and even Australia, Debbie has built up an amazing portfolio along the way.
Having always had a love of architecture, interior design and horticulture it was being able to bring all those skills together in sugarcraft that has Debbie doing a job she loves in a location that would be the envy of many. Debbie runs demonstrations sharing her skill and knowledge with others so if you live in the Costa del Sol or plan going there on holiday check out Debbie's site at www.weddingcakesspain.com
One of the first nights we met Debbie and her husband Glyn there was karaoke. As you'll see from our singing on the 12 Days of Christmas Special Sing-a-long we are hopeless at karaoke, but after some persuading Debbie took to the mic and blew us away with the most amazing jazzy singing voice. We then found out that she was a performer at Theatre Salon Varieties in Fuegirola where she has performed in a number of musicals, which made sense with a voice as good as that!
On our last weekend in Spain we held a leaving party where far too much wine was consumed, but we hatched the plan that Debbie would come to Scotland and film a sing-a-long tutorial for Christmas. It all felt very strange discussing Christmas in August with temperatures close to 40C, but it was here before we knew it. We set aside a whistle stop trip with two days filming, but we managed to finish using just one long day so with a day spare we headed to the highlands of Scotland. The scenery was beautiful with snow down to road level, but clear skies and easy driving conditions it was a fantastic day, which was also a trip down memory lane for Debbie who had previously spent some time in Perthshire. In the evening a trip to Edinburgh's famous German market followed by cocktails at the Dome made this a very special day with a very special lady.
Here's a little taster of what's to come in this short overview video…