Game of Thrones cakes – CakeFlix members edition
Who's ready for the 8th and final instalment of Game of Thrones? We went out to the lovely members of CakeFlix and asked them to send us some of their best Game of Thrones cakes ahead of the new season!
As always, they didn't disappoint!
Not a fan of the show but want to have some of your other work on display on our site? Enter our Cake of the Month competition for a chance to have your cake featured as well as win incredible prizes from Karen Davies and The Cake Decorating Company!
The Iron Throne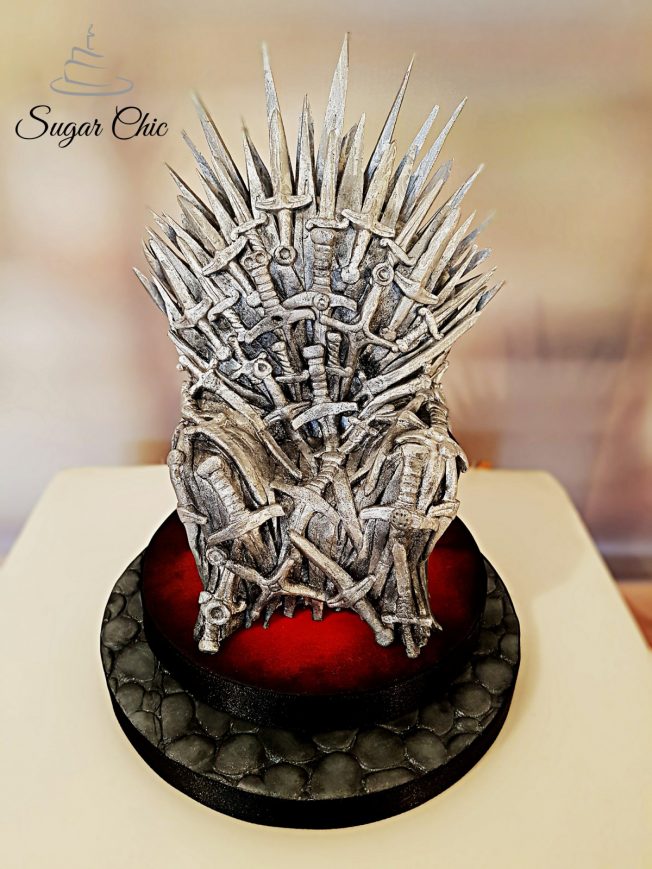 CakeFlix member, Kristine AKA
Sugar Chic
, made this incredibly intricate Iron Throne last  year. With over 100 moulded swords and knives, plus another 50 or so hand cut blades. This cake took around 8 hours from start to finish and is made using Laped Modelling Paste and painted with Rainbow dusts.
Flaming hot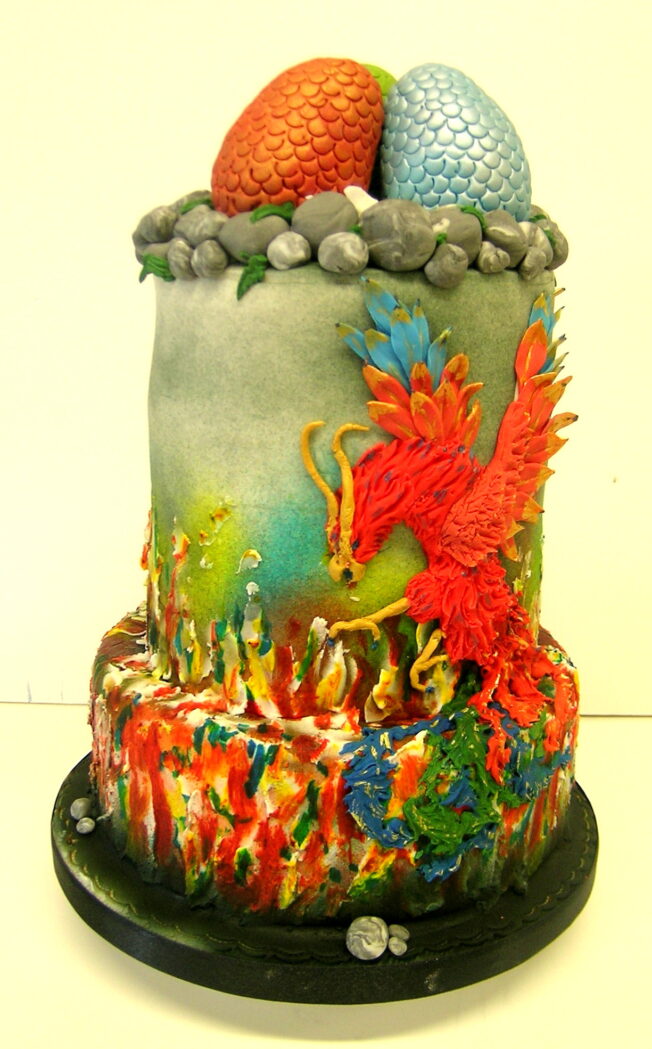 Graham Weare created this fiery design based on the show. We think you'll agree that the colours are simply mesmerising on this one!
Westeros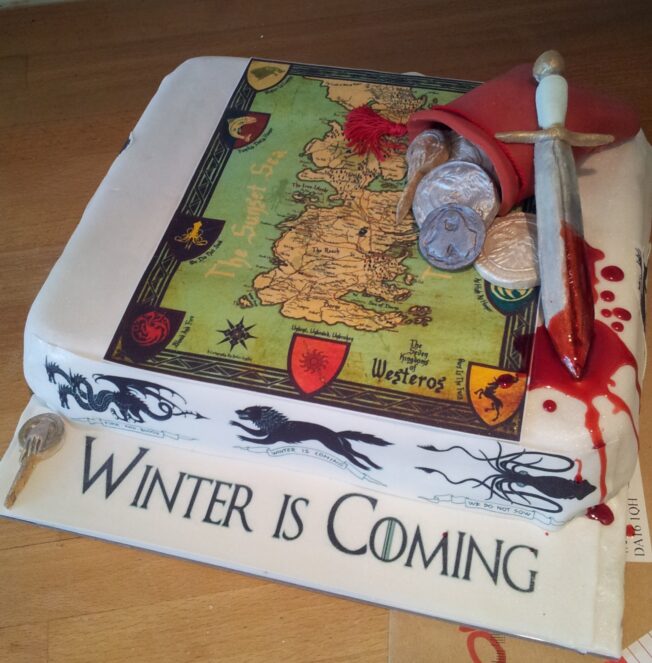 Helen Swan made this edible map of the wild world of Westeros. Everything on this cake was hand made from icing apart from the map which was printed. Helen made copies of the house sigils into coins, a red medieval style purse and a bloody dagger to mimic the dramatic Red Wedding!!
Heart Tree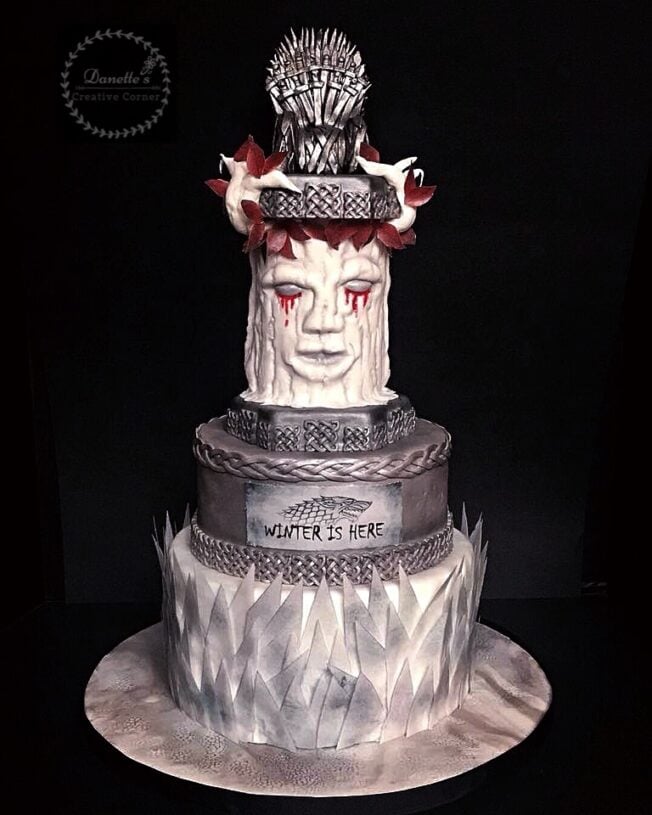 Danette Kessler of
Danette's Creative Corner
 created this wonderful 5-tier cake of the Game of Thrones heart tree. Complete with Iron Throne on top, winter is definitely here! You can try some of Danette's cakes out for yourself using her
CakeFlix tutorials!
The Night King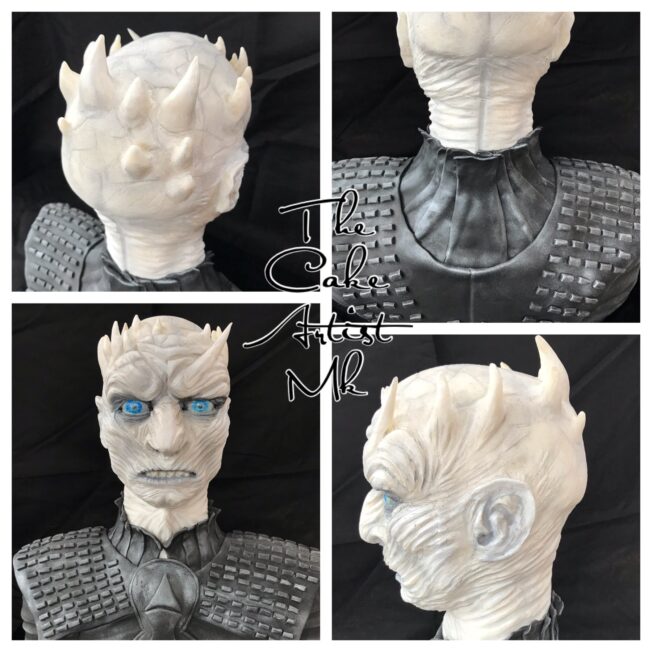 Ruth Wallace certainly brought the haunting Night King to life with this fantastic cake sculpture. His icy glare is nearly as cool as the cake its self!
An unexpected conqueror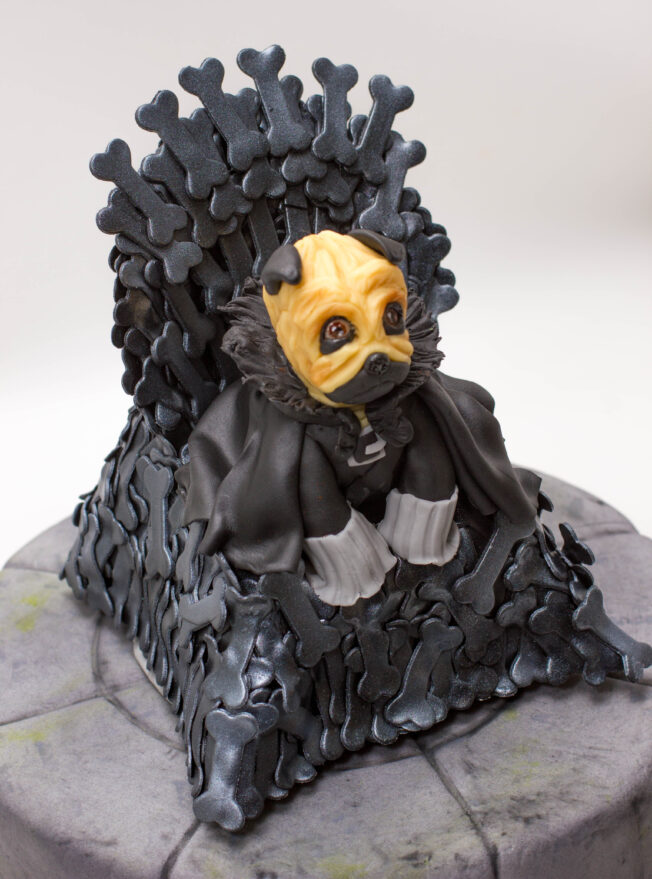 From the terrifying Night King to something a little cuter. Julie Rogerson from
Julies Cake in a Box
 made this adorable pug who has woofed his way to victory in Westeros.
A Dragon's Throne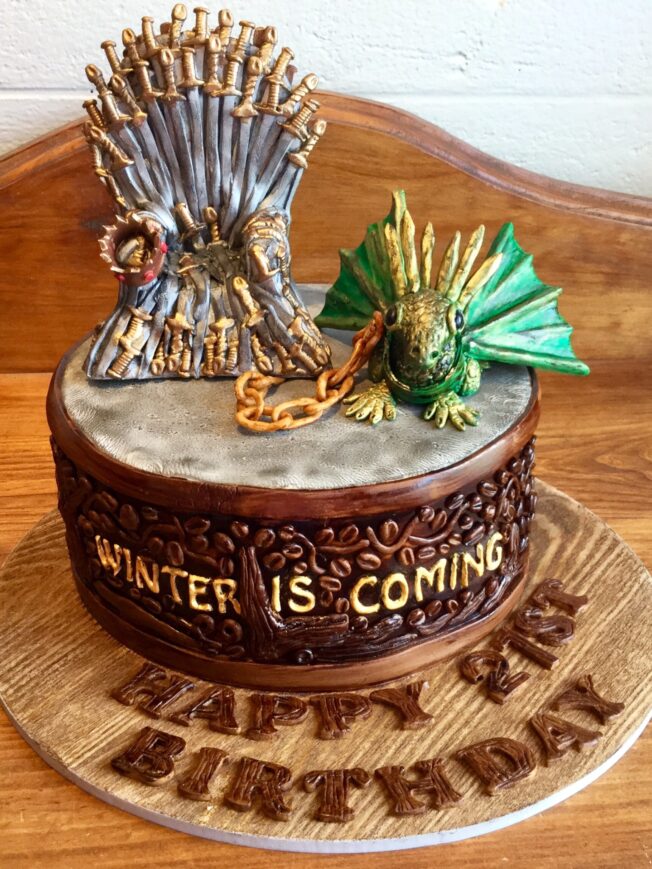 Mandy Suckling
made this Game of Thrones birthday cake featuring both throne and dragon. The metallic paint finish on this one really brings the cake to life along with the fantastic chain link effect!
Cake for the House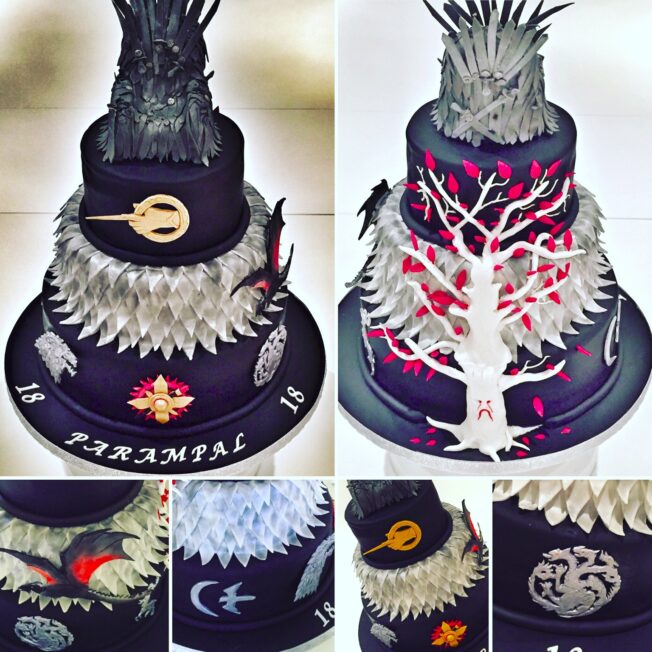 Hardip Pabla of Perfect Lovely Cakes made this intricately designed Game of Thrones cake, despite admitting that she knows nothing about the show!
Hardip says of the cake "It is a cake maker's dream to get to work on something they know nothing about. Stress levels aside, the resulting feeling when you nail it for the client is amazing."
The badges on the cake were hand cut and Hardip added that "clients and their passion is what celebration cakes should be about" and we couldn't agree more!
A Game of T̶h̶r̶o̶n̶e̶s̶ Football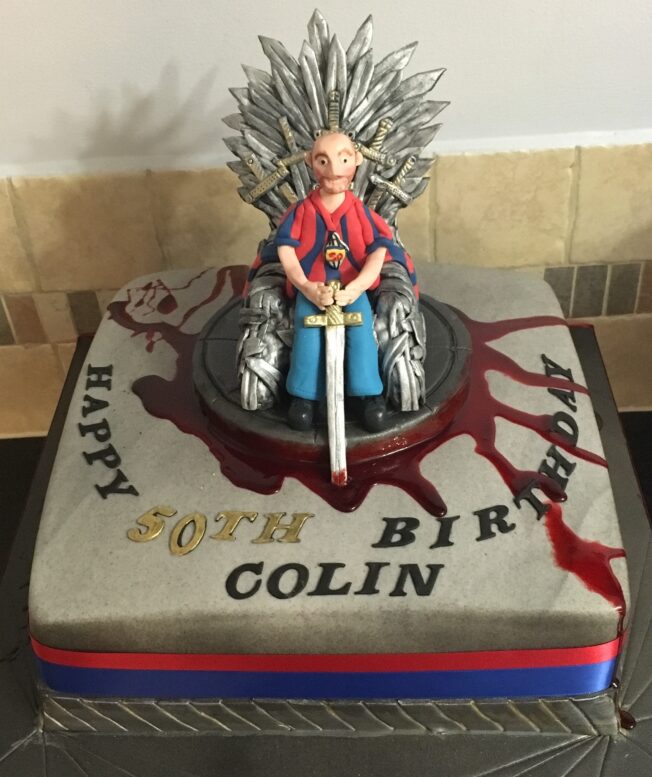 Wendy Leaney was tasked with something a little more original for her Game of Thrones cake as she intertwined the birthday boy's passions of Game of Thrones and football (soccer for those across the pond). And did so very well might we add! (the blood is making me a little squeamish)
As you wish…
CakeFlix tutor Natalie Porter made this stunning Game of Thrones-themed cake for a lucky couple on their wedding day! 5-tiers tall and complete with Natalie's famous sugar flowers, we just hope it didn't turn into a red wedding with people fighting for the last piece of cake.
King for a Day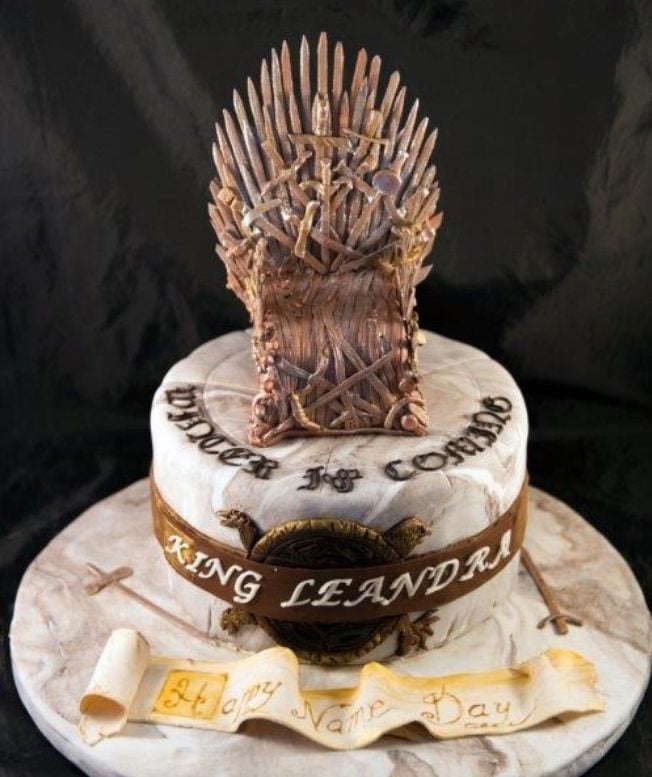 Marilyn from
Unique Cakes 
made this Happy Birthday cake (or should we say Happy Name Day cake?) for a lucky King. We're sure they had a sweet birthday getting tucked into this one!
A Tier of Tyrion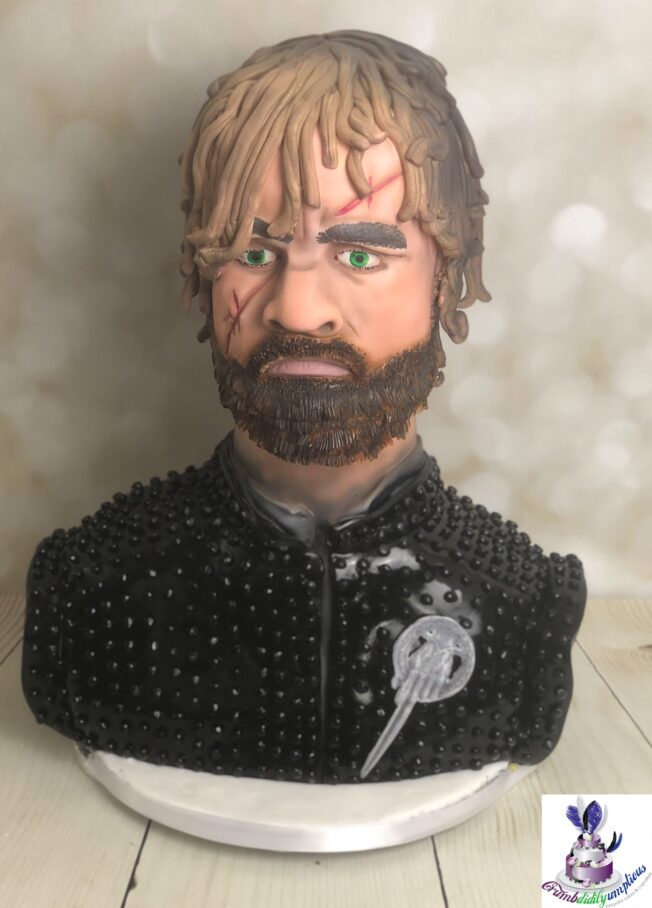 Kerrie at
crumdiddilyumptiouscakes 
made this sublime cake sculpture of Tyrion Lannister.  Somehow Kerrie managed to get the cake done in just 3 days. We're surprised as the cake looks bigger than Tyrion himself!
Winter is Coming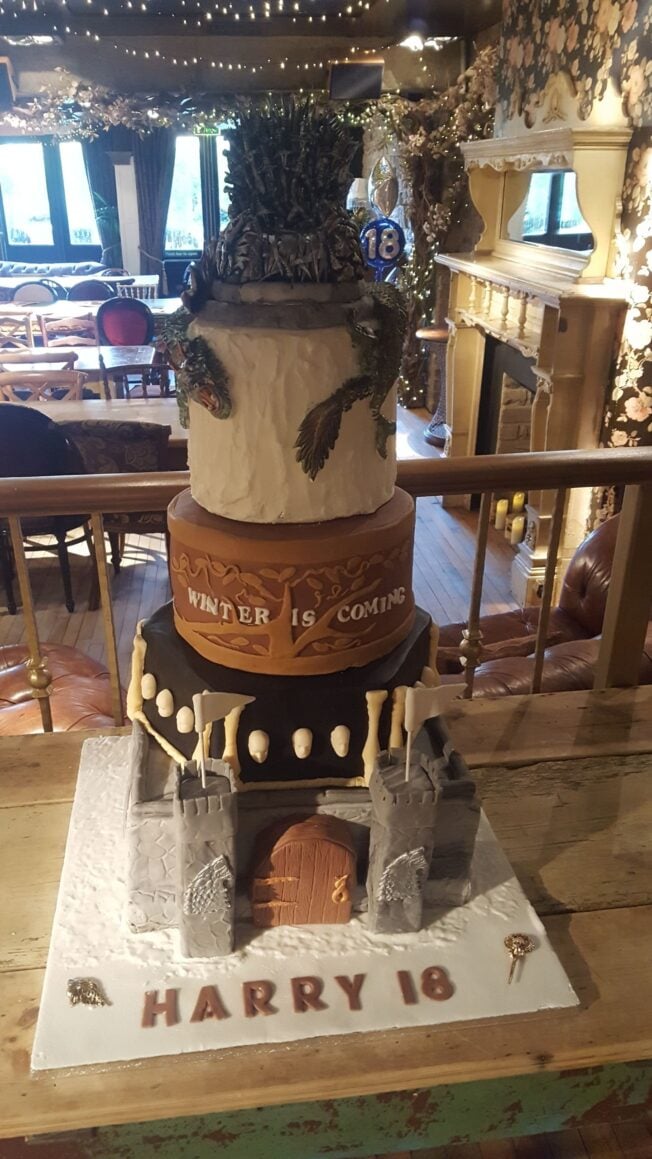 Lynne Ward incorporated a whole bunch of diffeen Game of Throne themes for this skyscraper of a cake. We can only hope that 'Harry' manages to get down to the 'hall of faces' by the time he hits 30.
What is your favourite Game of Thrones cake? Let us know in the comments below !