We are super excited to announce we have been awarded the Gold Trusted Merchant rating by Feefo – the global feedback engine that recognises excellence in customer service. The accreditation recognises hard work and excellent customer service and is based on reviews by you, our lovely customers!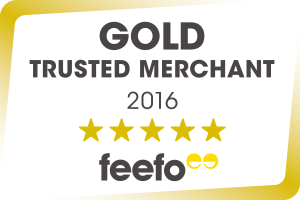 Over the course of 2015, we scored consistently highly in feedback from our verified customers, with an average service rating of 99%. The way it works is anyone who made a purchase of an individual tutorial or subscribed as a paying member, was asked to give feedback on their experience. There are three tiers of award – Gold Trusted Merchant, Trusted Merchant and Commended Merchant. So, as you can imagine, we are absolutely over the moon to have scooped the top award.
Worry not! This certainly doesn't mean we're going to rest on our laurels. We're constantly striving to improve your experience and offer the very best level of service. We love to hear from you, our customers, so please do get in touch if you have any suggestions for ways we can improve our service.
Thanks for all your support.
Paul, David & the PBSS team x