If you love cake or desserts but you are looking to make dietary changes, then you should consider substitutes to your favorite ingredients. You do not have to cut desserts out of your dietary regimen in order to adapt to a healthier lifestyle. Simply make some adjustments in order to consume less processed foods, calories and sugar. Here are a few swaps you can make to have your cake and eat it too.
Try Almond Flour
If you are looking to eliminate gluten from your diet, or simply cut back for health reasons, then you may want to use almond flour for your baking needs. Unlike regular flour, almond flour has a distinctive flavor that pairs well with many different desserts, and can even be used in the breading of meat and fish. Almond flour has a myriad of nutritional benefits. It has high amounts of protein and is low in carbohydrates, making it a great option for those on the ketogenic diet regimen.
Eliminate Dairy Products
Many people are lactose intolerant on some level, meaning they get a reaction from consuming dairy products that are often uncomfortable, and sometimes painful. However, you can benefit immensely from using dairy substitutes in your everyday cooking instead. The plant-based milk market has expanded rapidly in the past decade, so you can have soy milk, oat milk or almond milk, to name a few.
Use Low Calorie Sweeteners
If you still want the sweetness in your desserts without the damaging effects of sugar, then you may want to consider natural sweeteners that are also low in calories. For example, maple syrup is delicious and can add flavor to anything that you put it in. One of the most popular go to options is Stevia, which has been shown to reduce levels of blood pressure in many people who use it on a regular basis.
Incorporate Fruit
One of the best natural sweeteners that you can add to any dessert is fruit. Fruit is packed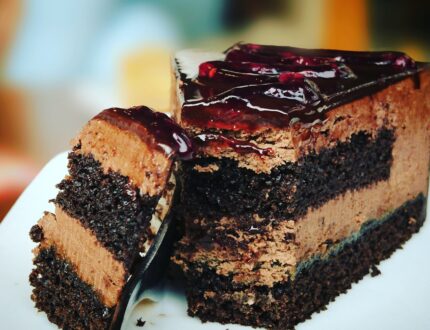 with essential vitamins and minerals, such as fiber. Berries in particular are high in antioxidants, which are useful in lowering inflammation and protecting your immune system. If you enjoy ice cream with fruit, you can try adding fruit to frozen yogurt for the same effect. You can also use fruit to make a delicious smoothie, with the natural sweetness from the ingredients coming through. You can even have some fruit as a substitute when you are craving a dessert.
Add Supplements
Another way to make your desserts inherently healthy is to add in nutritional supplements. You can incorporate these into your mixture before you bake cake, cookies or muffins. If you find yourself needing more fiber in your diet, then you can mix in flaxseeds or chia seeds for an extra boost. If you enjoy smoothies or shakes, a great way to get in nutrients is to use a concentrated powder form of greens, which include spinach, kale and arugula. This way, even if you are splurging on a sweet treat, you can still feel better about what you are consuming.
Utilize Greek Yogurt
Greek yogurt has exploded in popularity over the past few years, and it is becoming an increasingly chosen ingredient for desserts in lieu of traditional ice cream. It is an even healthier option than frozen yogurt. One of the main benefits of using Greek yogurt is that you will get more calcium and protein. When adding it as an ingredient for your desserts, you should make sure to use a sweetened variety, which will taste more similar and keep the flavor that you are used to. It is even delicious plain, with berries or chocolate chips as toppings.
You do not have to worry about giving up all of our favorite desserts to have a better and healthier lifestyle. With these tips, you will still be able to enjoy everything you want to, with slight modifications, and eat all of the foods that you want to.