Skill level: Intermediate
HD Lessons: 8
Pudsey Bear Cake Tutorial by Ben Cullen
Learn how to make this punk rocking Pudsey Bear by the BakeKing Ben Cullen.
CakeFlix are delighted to have teamed up with BBC Children in Need  to create a huge online Pudsey Bear cakes collaboration.
Paul Bradford and Ben Cullen, aka the BakeKing, have created FREE to view Pudsey Bear tutorials to help you create your entry. Follow the link below for details on how to submit your entry.
Pudsey Bear Online Collaboration 2019
In the following tutorial, you will learn how to:
Make an internal structure
Stack and carve a basic shape
Airbrush
Make clothing with sugarpaste
And much, much more
Don't forget to share your interpretations of this wonderful cake with Paul and the rest of the CakeFlix community on our Facebook group.
View hundreds of more world-class tutorials only at www.cakeflix.com.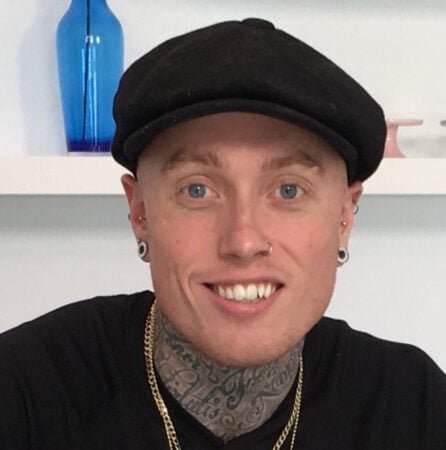 Ben Cullen
Ben, otherwise known as the BakeKing is a multi award winning cake artist. Having won Gold awards at Cake International in 2015 and 2016 his popularity has grown quickly as he adds personality to his amazing designs which give his cakes that extra character.
He is a regular contributor on Channel 4's Extreme Cake Makers TV Show.
It's worth checking out his excellent Youtube channel BakekingTV and Instagram stories which go to demonstrate the real character behind these amazing cakes.