Back to our Roots
After a fantastic time in Spain, Paul and David are returning to where the Sugarcraft School first began back in 2008, Linlithgow, Central Scotland. They have much enjoyed their time in Spain meeting some lovely friends and of course the fantastic weather, but it's taken this time to realise that they are a pair of workaholics and enjoy the faster pace of life the formal set up in Scotland will allow.  We are also looking to live stream courses and Spanish broadband is just not up to the job. To find us in Linlithgow click HERE.
Cake Decorating Courses
This has allowed for some new course dates to be added to this years calendar. To see our main Courses Page click HERE – you can sign up to a course of your choice by clicking the relevant link:
Accredited Tutor Scheme
With the launch of the Accredited Tutor Scheme, which has courses running in September and November, there was a need for a dedicated classroom, studio and offices. Also being close to an airport became an important factor, so Linlithgow became the easy choice.
Accredited Tutors will be running Paul Bradford's courses throughout the world with potential tutors from the UK, Sweden, Far East, Nigeria and the US. To ensure that course notes and materials are all formally recorded, Paul will be teaching the courses listed above at his studio in Linlithgow. Once the Accredited Tutor scheme launches Paul will no longer be teaching these courses so this is a great chance to get in while you can!
Online Tutorials
Since leaving for Spain the business and staff numbers have grown significantly and the office space and studio will allow the team to be based in two locations, Linlithgow and Manchester rather than 5 as it is at the moment.
With a dedicated studio there will be more video blogs and more hints and tips coming your way so watch this space.
Online Tutorials are the mainstay of the business and as members will have seen we have had some amazing guests so far this year including Mayen from Way Beyond Cakes, Shawna from McGreevey Cakes, Brenda from Sugar High inc and Rudy from Man Bakes Cakes. And with Faye Cahill, Tracey Rothwell, Emma Ball, Ceri Griffiths, Kaysie Lackey plus many, many more all lined up, there's a widening variety as well as ensuring that Paul is regularly in front of the cameras too.
If you want to learn more about our Online Tutorials click HERE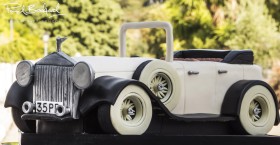 Online Pro Members
Our Pro Members package gives you all the details you need to know to set up and run a profitable cake decorating business.
We have been delighted with the feedback from our Pro members and amazed to hear just how many of our members businesses are doing well out there bucking the trend.
Recent feedback has made us add a couple of extra tips on the cake delivery lessons so please keep your feedback coming and as always David will get back to you usually within 12 hours with an answer to any Pro questions you have.
This weekend Paul will be filmed hosting a real life wedding appointment. Andy, who runs the customer support side of things, is getting married in February so not wanting to miss a filming opportunity his fiancé Jen and her mum will be going through the appointment process that Paul has refined after hundreds of wedding appointments which will allow you to see the real life experience. It will be great to compare the theory and practice so watch this space.
Tours Being Planned fror 2015
Paul is currently scheduled to be a guest tutor at Cakefest in Louisiana 21-22 February and will be planning some additional US dates around that.
Early plans for a tour of Ireland in June 2015 then off to Australia around September time. For more details send a message via Contact.
There are likely to be return visits to Madrid, Barcelona, Dubai, possibly Qatar, Cologne and Berlin.
New Book for 2015
Due to the move and launch of the Accredited Tutor scheme we delayed work on our new book with Search Press until January 2015, so hopefully that will be published not long after to accompany the Christmas Cakes Book currently on sale on Amazon.