For the fashion conscious bride, there's only one look her wedding cake will be sporting this season. Metallic wedding cakes are stealing the limelight from their more subtle, traditional counterparts, and taking centre stage as one of the go to trends of A/W 2016.
Dressed to impress
We love everything about Paul's Satin Chocolate Rose Cake tutorial, not least of all the gorgeous metallic sheen of the sumptuous roses. It's a classy way to create a wedding cake that's bang on trend.
We're loving this arty metallic creation! This pretty four-tiered, gold-flecked design was created by the Ivory & Rose Cake Company.
Contrasting pastel shades with metallic colours can look so lovely, as this beautiful cake from The Artisan Cake Company demonstrates.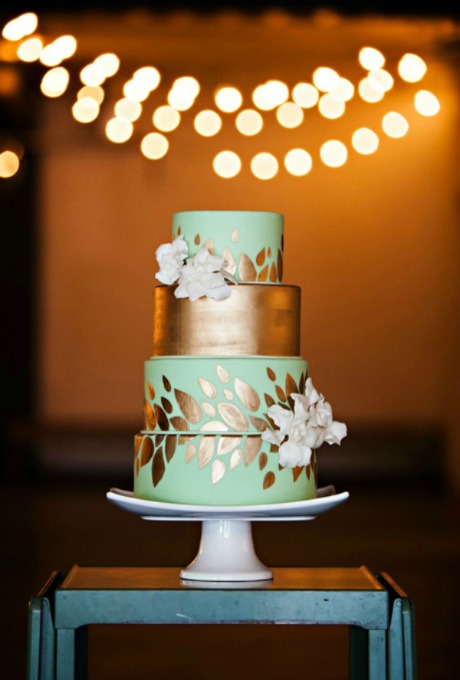 One for all the ice queens out there… the Winter Wedding Cake tutorial will show you how to craft this stunning design that's just perfect for this time of year.
Not all that glitters is gold, as this metallic green cake by The Sugar Suite proves. Think outside the box – metallic doesn't have to be bronze, silver or gold.
The metallic look is perfect for channelling an old world, antique vibe. Just like this two-tiered wedding cake with a silver bottom layer and antique silver accents from The Cake Hag.
Don't forget, the metallic cake trend doesn't have to be too in your face. For example, check out this three-tiered white wedding cake with delicate gold piped details and sugar flower from The Sugar Suite.
And last, but certainly not least, this elegant metallic wedding cake design from guest tutor, Faye Cahill. Follow the Shimmering Lace Wedding Cake tutorial to learn how to put together this shiny masterpiece.
What do you think of the metallic cake trend? Do you have a favourite design? Let us know in the comments section below…