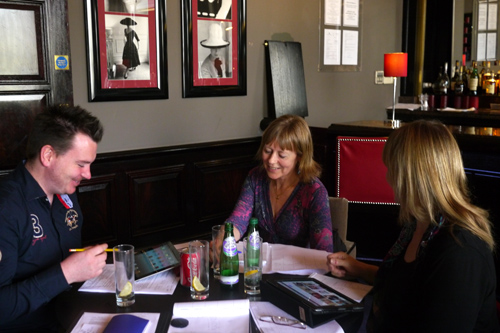 What a couple of weeks!
Having just returned from the Madrid Cake Expo Monday of last week we were off on the road to the London Cake Show by the Wednesday.
Reason for going down early was for two very important meetings on the Thursday.
The first was with Ros and Sophie from Search Press with whom we are creating a designer Christmas cake book. The picture above shows Paul with Ros and Sophie – I think they must have hidden the alcohol from the table for the camera 🙂 The ideas were flowing and we eventually decided upon 14 new designs which all sound absolutely stunning. Paul was in creative mode and only just stopped short of adding the Blackpool illuminations to one of his designs. We all got on really well and now the real work starts to get the designs created and text drafted.
There will be a range of easy novelty design through to designer wedding cakes especially for the festive season. Work starts now with publication and launch planned for around August 2013.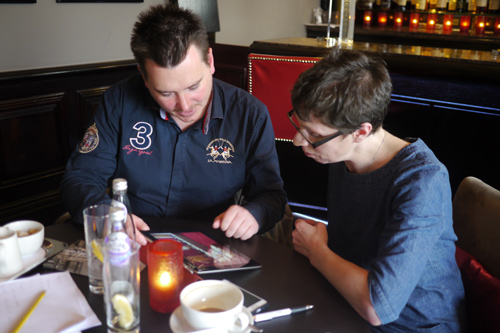 The second meeting was with Anna from iWorks TV production company. We discussed many exciting projects where Paul will bring a bit of magic to proceedings to make someone's important occasion very special. Below you can see both deep in thought…Hoping to hear more soon.
We also launched the new website last week which we believe is a far better advert for what we are doing and hopefully, after becoming familiar with the new layout, you'll agree.
The London Cake Show took up Friday through to Sunday with a number of new people becoming aware of the Online Courses and glad to say many new members joined the School. One key new feature is the Q & A section under the Online Courses tab. This is an opportunity for you to post your questions and also to help others by sharing your knowledge by answering some of the questions raised.
With all the excitement of last week we didn't manage to get a video on, but will have two this week.