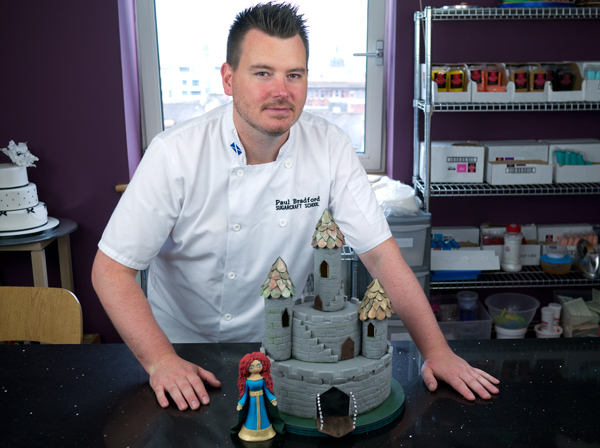 It's been a busy time which last week had the filming of Merida for this week's Online Course, which will be published on Thursday. Taken from the film Brave it was only fitting to do something to mark the film as it was set in the Scottish Highlands.
On Sunday Paul took a Private Class for a cake club group who wanted to learn how to make bespoke haunted castles. There were some amazing colours and designs and what was a very enjoyable Sunday class and Paul took the opportunity to create a castle that would be suitable for Merida. Both looked great but there certainly were some scaling issues that meant that they wouldn't work at that scale together, but the designs certainly would.
Last week saw the completion of the first cake for the Christmas book to be launched next year. It's a snowman caught in the middle of a snowball fight which looks great, but just a relief to get the first one completed. We will be making a new one every week for the next 12 weeks in preparation for the photo shoot in December.
This week we are filming how to make a goldfish using rich fruit cake and marzipan so that will be a first for the online courses. There will also be a spitfire and more flowers for the woodland wedding cake being filmed.
On Saturday we have the Teddy Bear course and starting next Monday the 5 Day Intensive course. Both courses have a place available so happy to hear from you if you would like to attend.