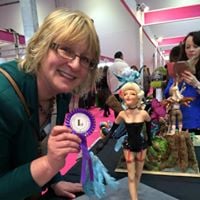 When I started my little home based cake making business from my kitchen in 2009, I never thought I would be where I am today, founding and managing
a network of teachers around the world teaching my classes and building their own sugarcraft communities, let alone publish a free online digital magazine.
I remember when I started reading the then small pool of magazines available about cake decorating and sugarcrafting and thinking how amazing these contributors were to have their tutorials published in a magazine and how on earth had they been lucky enough to have been offered that opportunity, and how amazing it would be to be asked to do that – and then I would have a little chuckle to myself about how ridiculous that thought was, these are the days before social media played such a key part in many of our lives, so at that time you were really on your in your own little kitchen baking for your regular customers, just dreaming of these crazy ideas.
I had a little website that people found me through, I still believe that a website is where you will find a lot of your new customers, and through that I was asked to teach a local group of people some cake decorating skills as part of a confidence booster in returning to work, I took up the offer and on the back of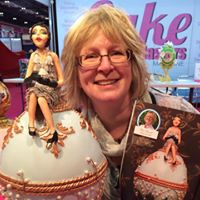 that was offered a position teaching cake decorating at a local college, that was it, I was hooked, I thrived on seeing others realise their potential and the enjoyment they had from cake decorating. After a few years and pressure from the college to take qualifications I took the big step to teach privately from home and because some of my college students didn't want to lose the friendships and fun they were having at the classes I started running a regular monthly modellers club for two hours a month, teaching cake toppers as well as a range of other cake decorating classes.
The next few years saw me very honoured to win eight gold awards, two first in class and best in show at Cake International and I think that opened my opportunities to teach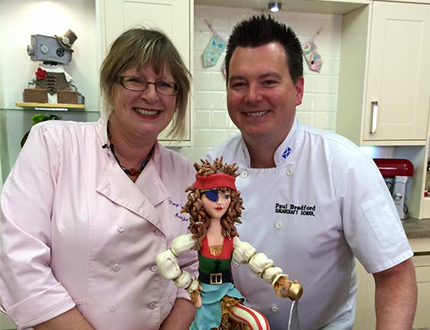 internationally and to become a judge, and I was even invited to write those tutorials for those magazines I had so wanted to be a part of, film tutorials for some well known online schools 😉 including my Princess Pirate Blue Heart tutorial on CakeFlix (then Paul Bradford Sugarcraft School). I was invited to exciting collaborations, demonstrating at cake shows, judging at other international shows, and a whole lot more, they were some very busy and exciting years but I always loved coming back to my regular monthly modeller students and the relaxed fun that we always had.
It was after taking a break from teaching these classes for a year or two, we were planning a move to France, returning to the UK and being asked if I would start them again and students arranging with each other to be in the same classes that I suddenly realised what a difference my monthly modeller groups had made to people lives. I had watched people grow in confidence, make lifelong friendships, they had worked together to put student tables together at Cake International and winning best student / collage table twice, I had watch ladies who had been widowed, have agoraphobia, recovering from cancer, suffering with depression and so many other challenges, step out of their comfort zones and come to a class and blossomed and smiled and laughed and above all kept coming. We all know how therapeutic sugarcrafting can be, especially when you are learning, but adding in the regular contact was another bonus altogether. It was at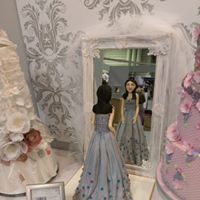 that moment I realised the huge benefit that these classes had not only for my students who were now friends, but also for my own mental health and support network, I wanted to share this with other people and for them to experience this in other parts of the country, even around the world and the idea of Cake Minds was formed.
I wanted to support teachers to enable them in turn to support their own students, helping to steer them through their own sugarcrafting journeys with the ups and downs it can bring. And so in October on World Mental Health Day 2019 I put Cake Minds out to the big wide world, not knowing what sort of response I would get – I was overwhelmed, within two months I had over a dozen teachers all keen to get onboard and work with me, I would provide the tutorials and other support materials they needed and they would build their own student networks. Together we ironed out and formed the foundations of Cake Minds, working out the best formats that would work for a number of people, which is something we still do, discuss ideas to ensure that they work for the majority.
As the first intake of teachers started their classes in January 2020, little did we know of the challenges to come and that we would all face with Covid-19 – no sooner had we started than we came to an abrupt halt. With a huge mix of emotions we stepped back for what we all thought would be a month or so, but when that panned out to be a longer period, I realised that Cake Minds needed to adapt and change to the uncertain situation we were all in. The teachers and I worked together to help those who wanted to teach online to their students and offer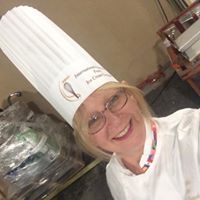 the same small class online learning experience that was complemented with another hours session during the month to have an informal get together and a chance to chat.
One of the things that I was keen for Cake Minds was to give our students added value to their membership, one of those idea's was a regular magazine, but after the huge enthusiasm from the now team of over twenty teachers, including Australia, and the input of articles and tutorials from them, I felt that we had enough material to not only provide our students with a bonus edition magazine, but something that others might enjoy too and in February 2021 the first edition of the Cake Minds Collective magazine went live.
I love that it is digital and that we can give our readers instant access to video tutorials within the magazine and of course with Cake Minds also being very strongly about supporting people on their own sugarcrafting journeys we have a large portion of the magazine interlaced with well-being and mental health articles, self-care and healthy recipes and interviews from the industry leaders and their own journey in sugarcrafting and in helping others build their own confidence in their own work and not judge themselves against others, and to realise that we are all on a different stage of our paths.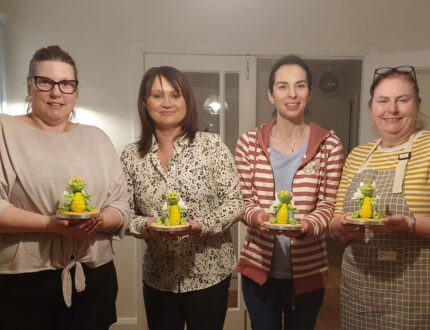 The Cake Minds teachers are one of the most amazing and supportive groups I have had the pleasure to work with, they have become something I never really expected Cake Minds to become, I think I thought it would be more of an administrative environment, but our virtual staffroom is much more than that, we have become a close supportive family and I am unable to quite say or describe how this makes me feel.
There are still dreams deep in the back of my head on where Cake Minds and the Cake Minds Collective Magazine will go, so we will see, but remember while you may be just starting in your own little kitchen it's where the dreams begin – follow them, adapt with them and enjoy the journey, it is your journey so don't compare yourself to anyone else or try to be them, be you and be proud of what you are doing and where you are going.
If you would like more details of just a chat feel free to contact me at [email protected]