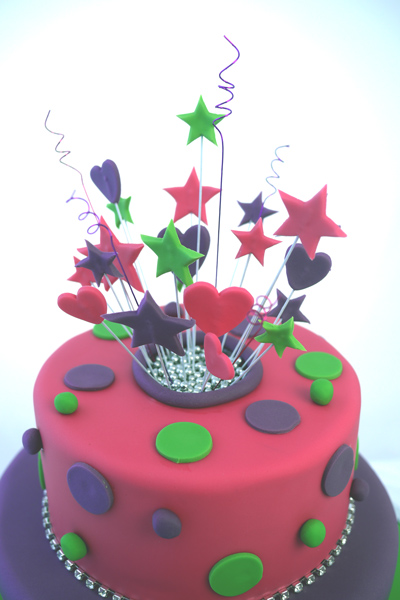 Hearts and Stars are such a simple but effective way in which to give life to an ordinary cake.
Using a mix of vibrant colours can be very effective or a mix of creams and golds to mark a golden wedding anniversary or even creams and whites for a wedding design. This very simple decoration to make is hugely versatile and can be incorporated into almost every celebration.
First you roll out the sugarpaste then punch the shapes into the sugarpaste using PME heart and star cutters (or choose your own shapes). Insert a 20 gauge wire into the centre of the decoration then leave to dry. Then simply cut the wires to size and arrange the decorations to suit. NOTE that the wires are not to have direct contact with the cake.
This will form part of a new and improved free section of online courses, which won't restrict in any way the growth of the members online courses.
Our aim is to have someone come to the site with very little knowledge or experience and have them be able to create the cake shown here simply by following the free videos. We're using our IT Support, Paul Doffman, as the guinea pig so he'll be posting weekly blogs letting you know how he's getting on. This should be live next week around the 20th June.